Fears and anxieties can cause many patients to skip dental visits for years, even when they are in dire need of treatment. Often, patients who suffer from dental phobias would rather endure the pain and irritation of serious health issues than deal with the debilitating feelings that they associate with visiting their dentist's office. At Smiles on Broadway Dental Care, we understand that these feelings can have a significant and lasting impact on your oral health, and we will do everything that we can to ensure your comfort and safety during every visit to our office. To help keep patients at ease throughout their treatments, Dr. Steven M. Katz conducts oral conscious sedation at the Long Island, NY, dental office. If anxiety or fear has made previous trips to the dentist's office unbearable, please contact Smiles on Broadway Dental Care to learn how oral conscious sedation can change the way you experience dental care.
Total Relaxation during Treatment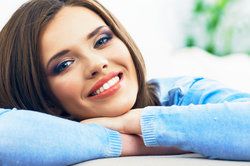 Many patients believe the term "sedation dentistry" means they will be completely unconscious during treatment. In truth, oral conscious sedation helps patients achieve a state of "twilight sleep," but not complete unconsciousness. With oral conscious sedation, you will take a pill approximately one hour before your appointment. This medication will help you achieve a state of complete relaxation, but you will remain awake and able to answer questions and respond to commands. Additionally, oral conscious sedation has an amnesiac effect, so you will not likely remember anything about your procedure once it is over.
Sedation Planning and Treatment
When you arrive at our office for your initial consultation, Dr. Katz will ask a series of questions to assess your overall health, and review any prescription medications you may be taking. It is important to answer all of these questions accurately so that our team can minimize the likelihood of any complications or adverse drug interactions. When properly administered, oral conscious sedation medications are considered to be safe and effective, with minimal risks or side effects.
On the day of your procedure, you will take the prescribed sedation medication about one hour before your treatment is scheduled. In order to ensure your safety, you will need someone to drive you to and from the appointment. Once you arrive at our office, we will monitor you closely to identify when the medication has achieved the desired level of sedation. Once you are at ease, Dr. Katz will proceed with treatment. You should plan to rest for the remainder of the day after you arrive home.
Schedule Your Sedation Dentistry Appointment
Dr. Katz and the rest of our team at Smiles on Broadway Dental Care have extensive experience with sedation dentistry. When you come to see us for your procedure, you can rest assured that you will be in the most capable hands. To learn more about how oral conscious sedation can help you relax and receive the dental treatment that you need and deserve, please contact our office to schedule a consultation.